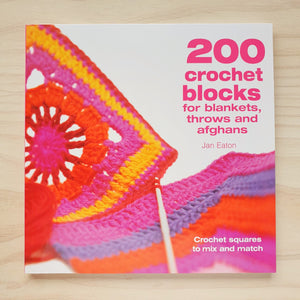 200 Crochet Blocks for Blankets, Throws and Afghans ~ Jan Eaton
Choose from 200 beautiful block designs and learn different ways of joining them to make blankets and throws that are both functional and decorative.
From Art Deco-inspired geometric patterns to traditional chequer-board stripes and elaborate motifs, discover new ways to combine colour, pattern and texture.
All stitches and techniques are clearly explained with step-by-step illustrations, from working in rows and in the round to joining blocks and making fringes.
At-a-glance symbols denote the methods used and level of difficulty, so both new and experienced crafters can easily create a crochet masterpiece.
Jan Eaton | Soft Cover | 128 Pages | Crochet