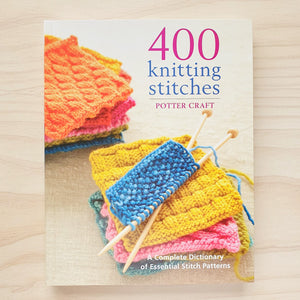 400 Knitting Stitches
Filled with detailed, step-by-step instructions, charts, and photographs, 400 Knitting Stitches covers nearly any fibre style you're looking to create.
From the most basic knit-purl stitches to the fanciest of them, you'll find stitch combinations for every skill level and every taste.
Among the 8 categories of stitches covered (including crossed stitches and cables, slipped stitches, lacy stitches, double stitches, twisted stitches and cast-off stitches), you'll find fabulous stitches such as:
Diamond Brocade, Wreaths, Seeds, Rows of Petals, Tulle, Ladders, Acorns, Half Hearts, Giant Honeycomb, Butterflies, Lacy Vertical Zigzags, Bobbles... and hundreds more!
Potter Craft | Soft Cover | 256 Pages | Knitting