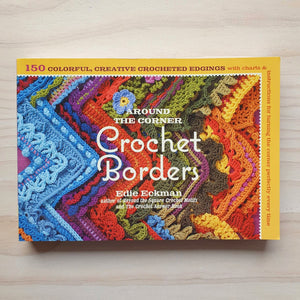 A beautiful border adds the perfect finishing touch to your hand-stitched pieces.
A knitted scarf, a crocheted blanket, even a store-bought tank top - they're all elevated by the texture and colour of crochet edgings.
Complete with detailed instructions, which are offered both as text and as charts for working in-the-round; back-and-forth charts.
Photographs of finished borders, each turning a 90-degree corner, allow readers to see the details up close.
Edie Eckman's 150 border designs range from the delicate to the flamboyant and are sure to appeal to a new generation of trend-setting crafters.

With this book, marvellous crochet borders are just around the corner.
Edie Eckman | Soft Cover | 316 pages | Crochet Borders