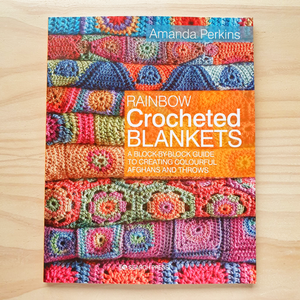 A block-by-block guide to creating colourful afghans and throws.

Amanda's bold and inspiring use of colour and pattern gives stunning results that are deceptively easy to achieve.

The book contains basic instruction on yarns and hooks, explains how to join motifs and sew in ends, and provides a brief guide to using colour, and fully illustrated block-by-block guides to creating ten stunning blankets, with colour variations providing twenty further creations.
Each of the ten blankets is constructed from a series of simple motifs, including squares, hexagons and triangles: creating a large and sumptuous blanket is simply a matter of piecing together colourful motifs into wonderful arrangements.

For every blanket there is an index of motifs used, accompanied by the instructions for how to make them: both in written form and as a chart. The blocks include a range of shapes and are accompanied by the 'fillers' needed to fill the gaps between them, with a full colour chart, and takes the reader block-by-block through the entire construction process.

Amanda Perkins | Soft Cover | 128 Pages | Crochet | UK Terms