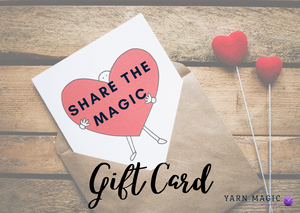 Share the Magic; for the one who is hard to buy for, who has practically everything or just a bit of last minute shopping... you can't go wrong with a Yarn Magic Gift Card!
 This Gift of Magic can be redeemed for online purchases. 
* Gift Cards are not be redeemable for cash
* Gift Cards do not include any activation fees, added service fees, or fees that reduce the value of the card over time.