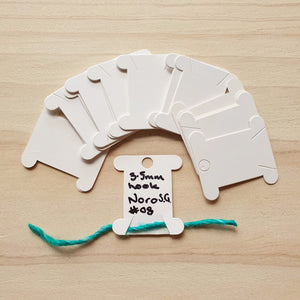 Who has started a yarn project (crochet mostly for me, however, I am bi-stitchual), and put it in the WIP's (Work In Progress) pile... fast forward a few days/weeks/months or even years later, and do you think I can remember what hook I was using or even if it was right pattern???
Well, what better way to keep track of all your projects, than with an awesome set of yarn project reminder cards!?
Attach them to your WIP using a stitch marker or thread one onto the other end of the yarn ball etc, so you can keep track of what hook/needles you used and the brand yarn or date of WIP etc. 
Sharpie, pen or pencil will work to write on these fantastic card reminders!
Card | Double Sided | Set of 20